In 2018 the primary difference between digital marketing and print marketing is IMPACT — print has it!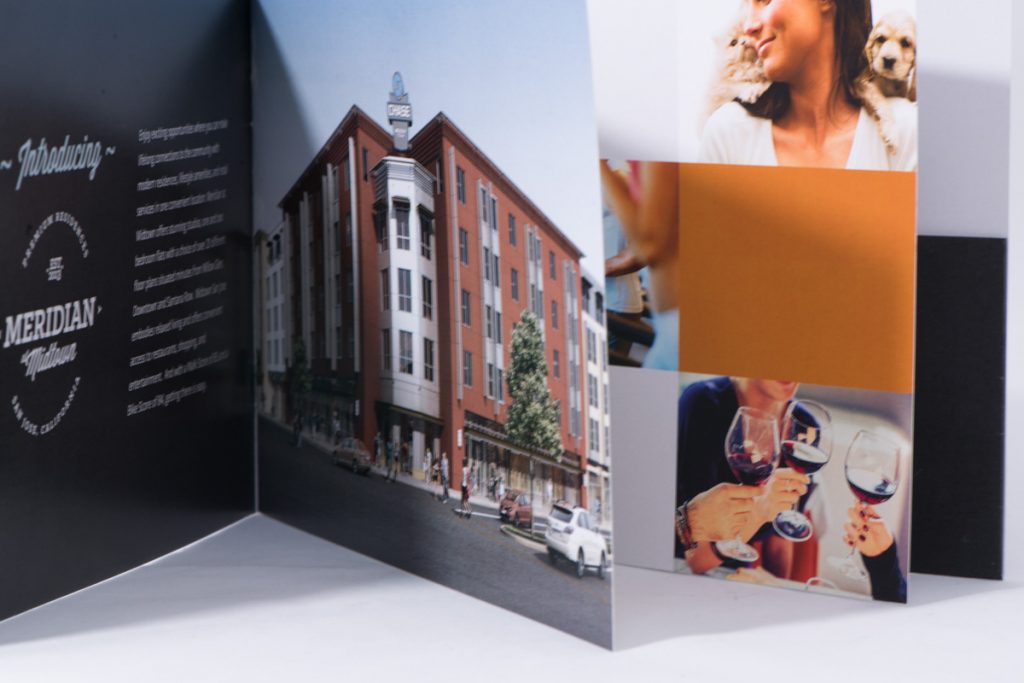 Of course, a solid digital presence is a must have for any business but in this age of culture bubbles, fake news, cyber warfare, and an endless barrage of creepily targeted advertising, it can be impossible to get your message heard. If you want to be seen, exist beyond the open tabs. If you want to be found, provide a map. Print helps your audience get where you want them to go and see what you want them to see; it's physical and it sticks around.
THE RIGHT TOOL FOR THE JOB
No sales kit is complete without some sort of leave-behind collateral. Typically this is a brochure, catalog, or folder full of sales sheets with a business card. The importance of this piece of collateral cannot be overstated. The leave-behind is a continuation of your presence after you've gone. It is the last word and a lingering encouragement to your audience to take the next step.
GET THE MOST FROM YOUR PRINT INVESTMENT
"If you're going to invest in print, make it amazing. Think sizes, shapes, finishes and other fine details that will make your piece more valuable than the paper it is printed on."
Print is tactile, a thing to be held. It has surfaces, edges, color, and weight. All of these attributes should be considered when planning your next leave-behind. Humans are kinetic learners. We ingest information best through movement, touch, and interaction. Entice your audience to read by engaging their senses. Readers grasps new concepts better and retain more of what they read when consuming information in print rather than on a digital device. 
DESIGN ATTRIBUTES THAT ENGAGE THE SENSES

Texture
Choose papers, cover stock, and finishes that make you want to touch it.
Color
Use color to compliment your brand.
Size
Make it small enough to travel well and large enough to be noticed.
Shape
Stick out, fold out, see through it. Use custom shapes and sized to stick out in a stack. Window cut-outs and extra wide fold-out spreads can add a bit of drama.
Weight
Make sure your audience knows that they are holding something valuable in their hands. 
MAKE YOUR MESSAGE HEARD
A well-designed piece of print collateral will speak to your company's style and panache but it doesn't tell your story; for that, you need words, pictures, and graphics. You've enticed your audience to look at and hold your collateral, now compel them to read it. Here are some simple rules to follow when crafting your content:
Keep it simple, both in language and in concepts. This isn't the Magna Carta. You want your audience engaged, not confused and definitely not bored.
Incorporate visuals, such as photos or graphics, that convey meaning and reinforce your message.

 

Give regular incentives to keep reading.
Withhold information. Save the granular data for the product and sell sheets.

 

Make your intentions known with direct Calls-to-Action (CTA). Entice your audience to take the next step.

 

call to make an appointment
visit our website
become a member
PRINT AND DIGITAL — NOT PRINT VS DIGITAL
Today's marketing requires multiple channels of audience engagement to be effective. Use print to drive online engagement by using CTAs that direct the reader to a website, landing page, or sign-up page. Incorporating a QR code is a great way to drive traffic to a specific location. In addition, your digital content can be converted to print marketing, saving time and creating consistency between engagement channels.
Consumers are looking for connection and authenticity. Meet them in person and give them something beautiful.
MEET FACE TO FACE
To leave something behind implies that you were there in the first place. The best way to make a personal connection is to do it in person. Make the connection, set the stage, and then knock their socks off with your beautiful piece of collateral that would be better described as art. This is IMPACT!