WIDE FORMAT PRINTING — GO BIG!
Our wide format printing department specializes in sustainable, custom signs and displays. We utilize two types of printers; an aqueous 12-color photo printer and a 4ft x 8ft flatbed UV printer. The aqueous printer uses planet friendly, water based inks to produce stunning photo-quality posters up to 42″ wide. The flatbed printer uses non-toxic (VOC free), UV light-cured inks that are applied directly to rigid substrates up to 4ft x 8ft and up to 1.75″ thick. What does that mean? It means we can print directly to rigid substrates such as foam core, aluminum, acrylic and even wood. We also carry a line of recycled and recyclable substrates. By printing direct, recyclable boards stay recyclable.
Wide Format Printing Capabilities
Print on rigid substrates up to 4ft x 8ft
Print on rigid substrates up to 1.75″ thick
Print white
Print multiple ink layers
Print on clear and non-white materials
Contour and kiss cut adhesive vinyls
Lamination
Products
Photo-quality posters
Fabric and canvas prints
Recyclable signs and displays
Retractable banner stands
100% recyclable banners
Fine art prints
Stickers and decals
Cut vinyl with DIY installation kit
Rigid posters and signs
Event and way-finding signs
Trade show displays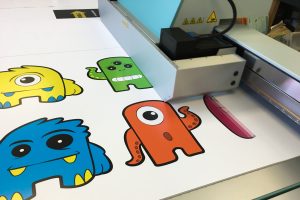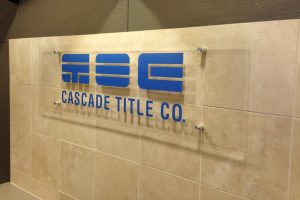 Our Wide Format Printing is Sustainable
Our wide format printers use non-toxic, solvent free inks in conjunction with precision spray nozzles. This wastes less ink and retains the recyclable properties of the material being printed on. QSL carries a variety of 100% recyclable materials including a new outdoor banner material made of recycled plastic bottles. Learn how QSL pursues sustainability each and every day.
Substrates

Lightweight Foam Core
3/16″ thick
48″ x 96″ printable area
white edge
Our economy-grade foam core has a smooth, bright white paper face that reproduces consistent, exceptional color in any light. This substrate is best suited for short-term indoor signs, point-of-purchase displays, and posters. For signs that will be handled often, we recommend our rigid foam core or our 100% recyclable Falcon Board.

Rigid Foam Core
3/16″ thick
48″ x 96″ printable area
white or black edge
A super smooth, moisture resistant polystyrene face provides extra stability and makes the ink pop! This sturdy but lightweight foam core is great for long-term interior signs, presentation graphics, stand-up displays, wall-mounted displays, and fine art. These boards are meant to be handled.

FalconBoard
1/4″ or 1/2″ thick
48″ x 96″ printable area
up to 20% recycled content
100% curbside recyclable
This paper-based, environmentally responsible rigid board is a great alternative to foam core. Our 1/4″ thick boards come in white with a kraft edge (cardboard brown) or you can try out our all kraft boards which look great with white ink! Want to go big? Our 1/2″ thick Falcon board remains rigid at 7 feet tall making it a great option for floor stands.

Eco-Display Board
1.2 mm thick
48″ x 96″ printable area
30% pre-consumer recycled material
spruce wood pulp sourced from responsibly managed forestry
Eco-display board is the most sustainable substrate we carry. This all natural wood pulp board uses NO chemicals, bleaches or harmful whitening agents. The printable face is made of 96 white point paper with a matte finish which produces brilliant colors and sharp image quality. Even the glue that holds it together is an all natural starch adhesive. Eco-display board is the perfect option for framed interior signs and POP displays.

PVC
3mm and 6mm thick
48″ x 96″ printable area
white edge
Our lightweight yet rigid polyvinyl chloride (PVC) with a low gloss matte finish is ideal for restaurants and food retailers because it can be wiped clean with a soapy sponge without damaging the print. PVC also maintains it's shape and white point in environments where fryers are being used.
Roll-to-Roll Media

Like the name suggests, roll media is printable material that comes on a roll. We stock a variety of poster papers, banner material, and adhesive films to accommodate a diverse spectrum of wide format products.
Banner Material
13 oz scrim vinyl (outdoor)
13 oz smooth PET film (indoor, low curl, biodegradable)
non-woven PET scaffolding banner (made from recycled bottles and 100% recyclable)
woven polyester fabric (indoor)
stretchable canvas (indoor, fine art)
Low curl rigid film (trade show pop-ups)
Laminates
gloss
semi-gloss
dry erase
Adhesive Films (stickers)
printed removable product stickers (low-tac, indoor, removable)
printed permanent stickers and decals (outdoor, bumper grade)
plotted pre-colored vinyl
printed clear film (permanent, indoor, outdoor)
printed static cling (indoor – white or clear)
Poster Papers
8 mil or 9 mil thick
matte, luster, or gloss finish
available in 24″, 36″, and 42″ wide rolls

Print it big!
Wide format printing is often a custom endeavor with many variables. Choosing the right materials and processes not only dictates how the product looks but also whether or not it functions properly. When it comes to your brand, don't guess — get in touch. We're experts and we're here to help.
| Offset Printing |  Digital Printing | Beyond Ink |
* instaprint is a retail partner of QSL Print Communications *
| Privacy Policy | Home |