When thinking about wide format printing it is easy to conjure up images of outdoor signs, window graphics, and vehicle wraps. These products only tell half of the story — the story of fixed, outdoor, long-term graphics and branding. The other half of the story takes place inside. Environment and way-finding signs are the products essential to creating a branded retail space or operations HQ that tells a story, engages visitors, and gives directions. These signs define the space.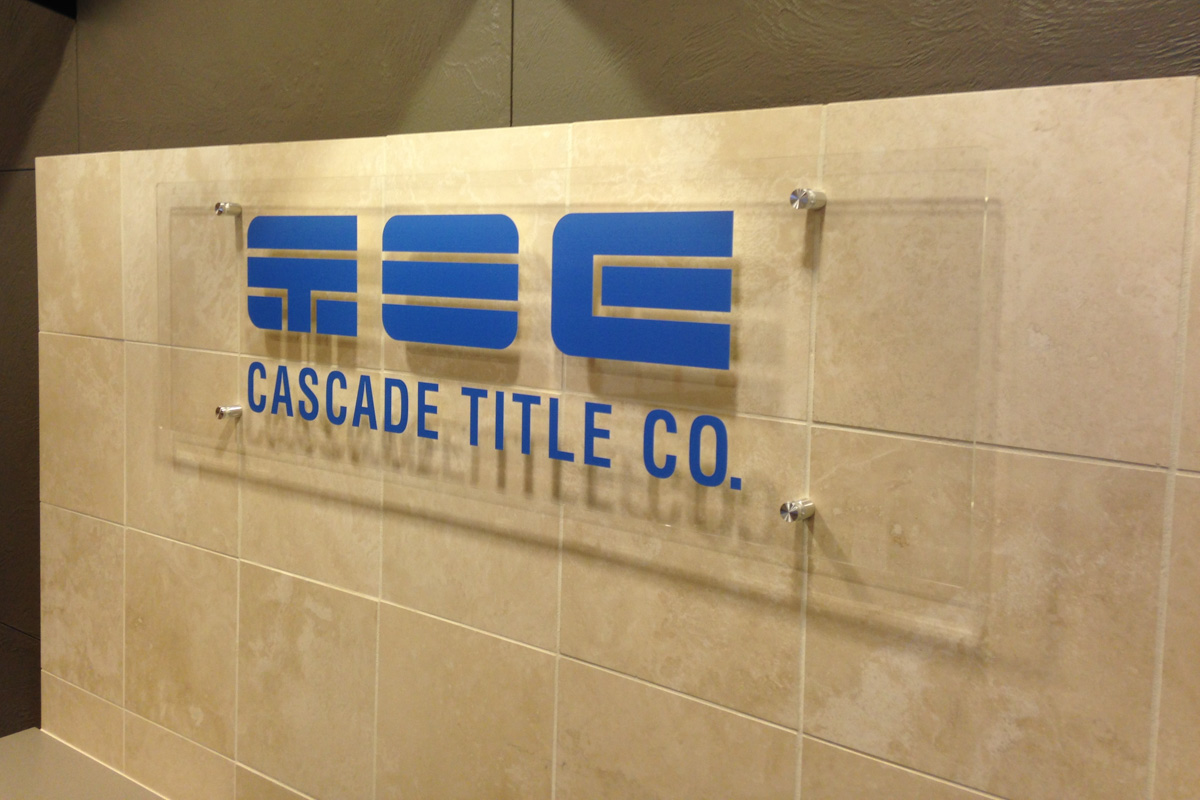 Get Creative with Environment and Way-finding Signs
Environment signs are the brand decor that makes up the interior aesthetic of a commercial location. The most popular type of environment signs is the custom logo. You will find these signs installed on an entrance wall or behind a reception desk. The above image shows a logo printed directly to clear acrylic and mounted to the wall with stainless steel stand-offs to create a dramatic and totally natural drop shadow. Other signs include hanging banners, posters, countersigns, and wall graphics. These signs provide directional information, tell a story, or showcase a product. Options for customization are endless!
Temporary and Changeable Environment and Way-finding Signs
Lightweight rigid substrates are great for changeable signs. These boards are inexpensive and easy to display in a variety of ways. Substrates such as foam core, Falcon Board, or eco-display board can be printed on both sides. Hang them from the ceiling with simple hooks and wire. Most boards are so light that you can also wall-mount them with removable Command strips — no paint damage and no holes in the wall. Both Falcon Board and eco-display board are made with recycled content and are 100% recyclable.
Permanent Environment and Way-finding Signs
Printing directly to acrylic creates a creative and stunningly beautiful aesthetic. At QSL, our direct printer has white ink in addition to the standard CMYK. White looks fantastic on black acrylic! Print white as a stand-alone color or use it as an opacity layer to keep your colors popping! Print on clear or translucent acrylic to make the whole sign shine.
POP — Point-of-Purchase Signs
Choose from a variety of materials for your next Point-of-purchase display. Many of our sustainably conscientious customers like the look of our all-kraft Falcon Board. It looks like cardboard with a smooth face and it's super durable. The brown looks great with both black and white inks.
Visit Our Product Gallery
Find inspiration for your next print project at our product gallery. Then get in touch. We want to hear from you!
* instaprint is a retail partner of QSL Print Communications *
| Privacy Policy | Home  |