QSL Print Communications won a Best In Category and two Honorable mentions at this year's Print Rocks! competition. At QSL and instaprint, we strive for perfection day in and day out. It is an honor to be recognized for our efforts by a panel of our peers in the print industry.
This year we submitted two print projects for three different categories; Media Kits, Flatbed Press, and Environmentally Sound Materials.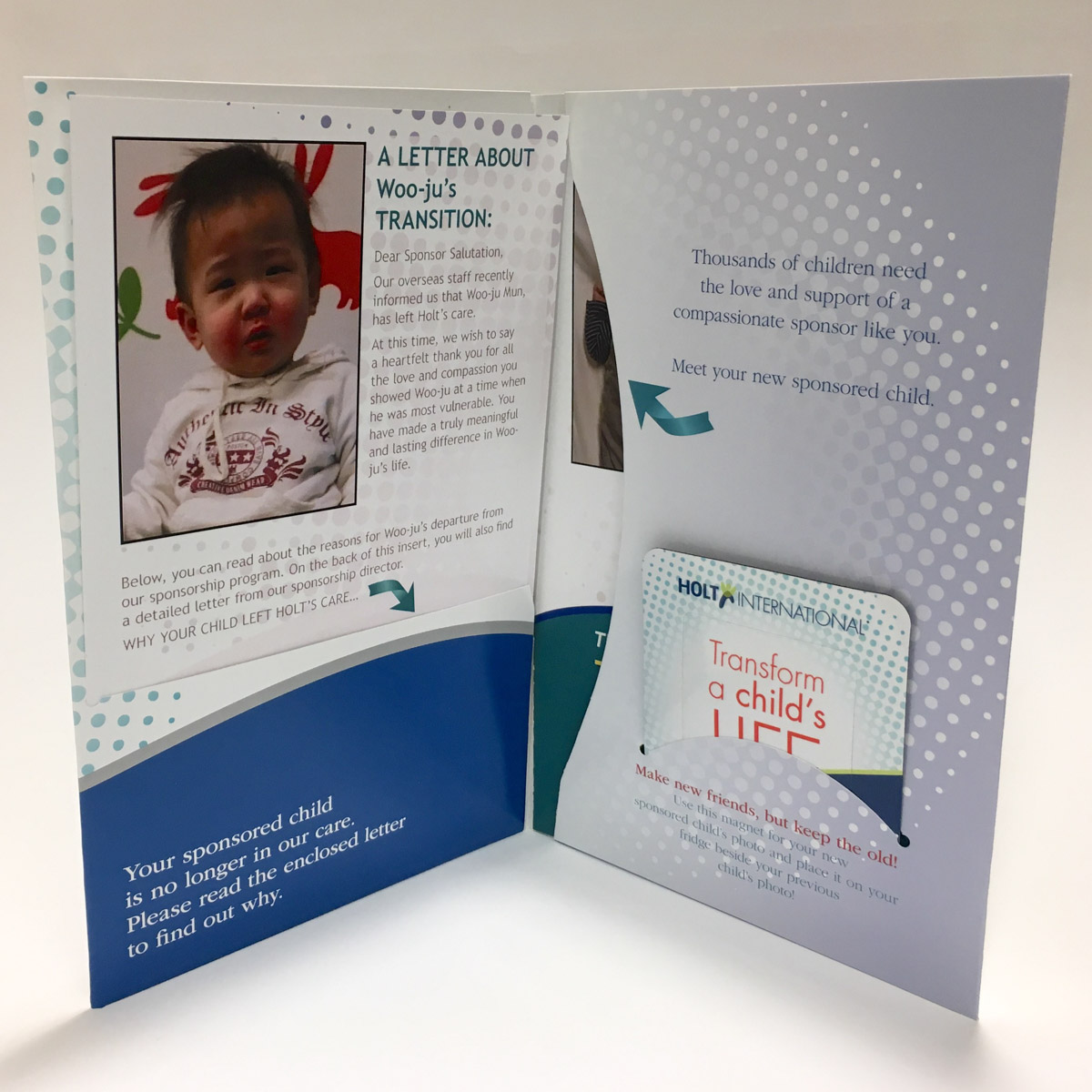 media kits
For the Media Kits category, we submitted a mailing piece that we produce for Holt International. The beauty of this product is in its architecture. Designed with personalization in mind, this is a media kit built to integrate variable data with functionality.
In the left-hand folder pocket is an information card specific to the recipients sponsored child. In the right-hand folder pocket, is a personalized letter with multiple variable-data fields. A cut-out holds a photo frame magnet and the back of the folder has a window cut-out to allow the recipient's name and mailing address to show through the window of the envelope. The folders have to be hand stuffed with specific attention given to matching the appropriate sponsored child with the corresponding recipient.
---
Flatbed Press & Environmentally Sound Materials
For the Flatbed Press and the Environmentally Sound Materials categories, we submitted our Sustainable Trade Show Booth. Last year, for the Eugene Business To Business Expo, we constructed a trade show booth out of recyclable and sustainable materials. We decided to go with rigid boards so that we could showcase our diverse product line while promoting our commitment to sustainability.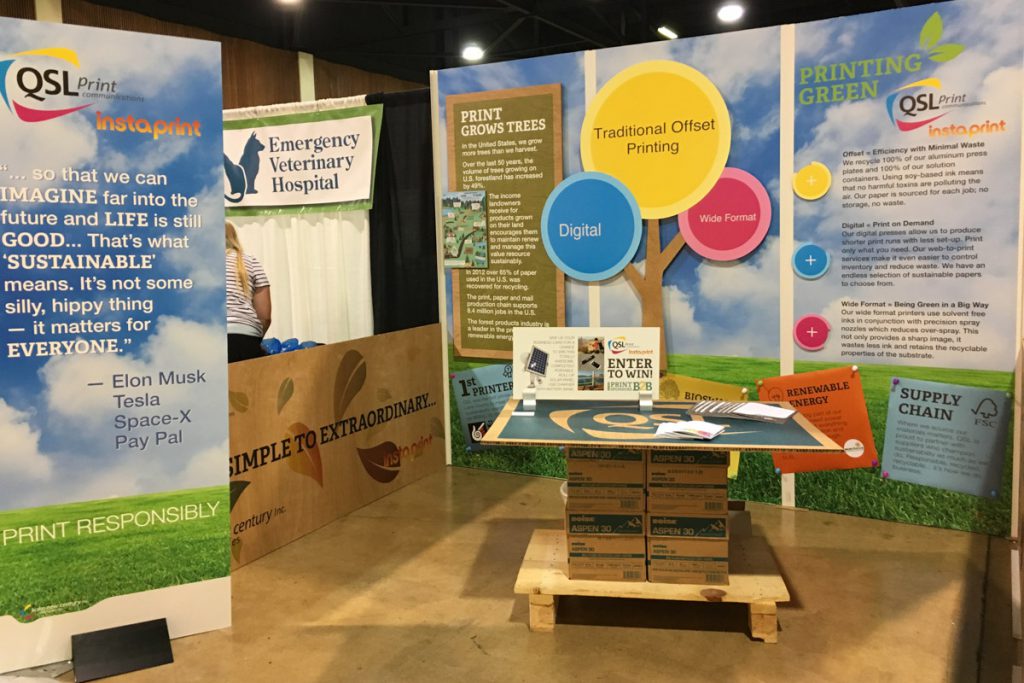 100% SUSTAINABLE!
Our backdrop consisted of printed Falcon Board, Katz Display Board, and aqueous poster prints layered on top of each other to create depth and dimensionality. We first assembled the rigid structure with multi-directional plastic edge caps to create a paneled wall display. To add visual depth, we layered design elements using spacers of differing thicknesses.
The bullet points on the panel to the right are made from Katz display board and attached with a 1/4″ Falcon board spacer. The circles of the tree are also Katz display board. The tree trunk is hand cut from 1/2″ thick Falcon board with a real cherry wood veneer face.
For the left panel, we printed a single layer of green on wood veneer Falcon board to reinforce the tree theme. Because our flatbed inks are semi-translucent, the wood grain shows through the print. We made the text pop with a double layer of white ink, then layered the illustration on top with 1/4″ Falcon board. For the final touch, we printed aqueous posters which we attached with fun over-sized push pins. The finished product represented the full range of our sustainable printing capabilities. Adding layers and dimensionality helped us stand out from the crowd.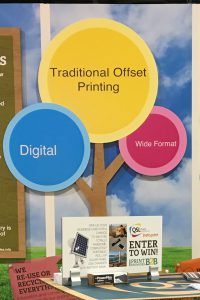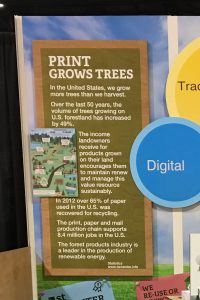 ---
print rocks!
Print Rocks! is an annual competition held among regional printers that are members of Pacific Printing Industries. PPI is a non-profit membership-based trade association serving an industry engaged in the creation, production, and implementation of print, visual, and graphic communications for Alaska, Hawaii, Idaho, Montana, Oregon, and Washington. Competition is fierce and the bar to compete is high. QSL and instaprint are honored to have cleared that bar!