2016 can easily be called a year of change and transition. We lost Prince, David Bowie and Princess Leia, the Cubs won the World Series, SpaceX landed a reusable rocket on a moving ship, and that's just a snapshot of a year that will surely be characterized as a pivotal moment in our collective history.
At the local level, we too, have felt the winds of change this past year. We've said goodbye to old friends and enjoyed making new ones. As our capabilities continue to expand, so does our knowledge and expertise. Embracing new technologies is sparking renewed creativity in what we produce and how we produce it.
2016 has pushed our comfort zones, opened our eyes to new horizons and cultivated a landscape in which we boldly stride into the new year armed with optimism and excitement for where the future will lead us.
Here are just a few of the things we're proud of for 2016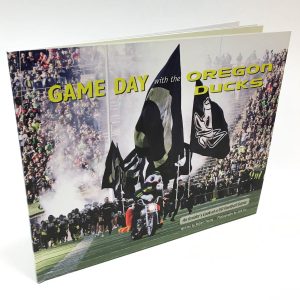 We Published Our First Book!
Printed by QSL and published by Koke Next Generation, Inc., this new photo-heavy fan book is the ultimate backstage pass to a Ducks home game.
Visit Game Day with the Oregon Ducks to get yours!
---
QSL made a great comeback to the B2B Expo by being this year's print sponsor. In addition to providing programs and signage for the event, we also constructed a booth display that is 100% recyclable and made from recycled materials. Sustainability is how we do business!
Speaking of sustainable…
QSL and instaprint are currently testing a new outdoor banner material that is made from recycled bottles and is 100% recyclable!