We are looking for a detail driven data analyst for our Springfield location!
QSL Print Communications, a Koke New Century, Inc. company, is the 3rd largest mailing center in the state. Our clients rely heavily on our expert mailing services and appreciate our knowledge and expertise when it comes to getting the best postal rate. We are a family-run business built on four generations of printers who value quality workmanship, honesty, respect and teamwork.
Download this job description by clicking here.
Position: List Processor
Department: Mailing
Reports to: Production Manager
Broad Function
Our List Processor generally serves as the knowledge base for current postal regulations and format requirements and is responsible for setting up and processing mailing data for the purpose of generating lists for inkjet addressing.
The mailing division is a busy and deadline oriented hub of activity that relies heavily on the accuracy of its mailing data. Our team members represent QSL in a professional manner by being courteous, helpful and respectful to our clients and coworkers at all times. Our team members are detail oriented, personally responsible individuals capable of performing their duties with minimal supervision.
Essential Responsibilities & Required Skills
Inspect client provided mailing lists, fix formatting errors and flag any potential issues
Format and export data for production
Prepare documentation for the post office
Occasionally assist in metering mail
Occasionally assist in tagging and strapping mail trays
Coordinate with co-workers, clients and post office personnel to trouble shoot any data processing issues
Perform other duties as necessary
Ensure that jobs maintain a high level of quality and are completed on time
Be a multi-tasking problem solver that can work under pressure of deadlines
Adhere to all Koke New Century, Inc. policies and procedures as detailed in the employee handbook
Minimum Requirements & Abilities
High school diploma or equivalent
Two years of data entry or data analysis experience
Extensive experience using Microsoft Excel
Excellent 10-key skills
Regular and predictable attendance is required
Must be a team player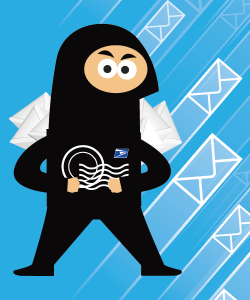 be a postal ninja!
Please click the APPLY NOW button to submit a cover letter and resume and be sure to put Iron Man in the subject line.
No walk-ins or phone calls please
---